Minor Chords
From the previous lesson on the major triad you should already know that all chords have a formula. The formula for a minor chord is I - bIII - V. This means that a minor chord uses the 1st, 3rd and 5th notes of the major scale, but the 3rd note is flatted (lowered by one semitone). Below you will see the C major scale with the 3rd note flatted:
The 1st, flatted 3rd and 5th notes will form the basic minor triad (C, Eb and G). Remember - Eb can also be called D#. If this is confusing you may need to learn more about the chromatic scale. Below is the formation of the C minor chord: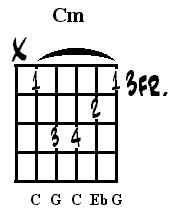 Now that we know the formula for a minor chord we can use this information to work out what notes are in a minor chord of any given key. Below you will see a table that has the major scale written out in all 12 keys. Make sure you flatten the 3rd note each time!
Question - What notes are in an F minor chord? Answer
| | | | | | | | | |
| --- | --- | --- | --- | --- | --- | --- | --- | --- |
| Key | I | II | III | IV | V | VI | VII | Octave |
| A | A | B | C# | D | E | F# | G# | A |
| A# | A# | C | D | D# | F | G | A | A# |
| B | B | C# | D# | E | F# | G# | A# | B |
| C | C | D | E | F | G | A | B | C |
| C# | C# | D# | F | F# | G# | A# | C | C# |
| D | D | E | F# | G | A | B | C# | D |
| D# | D# | F | G | G# | A# | C | D | D# |
| E | E | F# | G# | A | B | C# | D# | E |
| F | F | G | A | A# | C | D | E | F |
| F# | F# | G# | A# | B | C# | D# | F | F# |
| G | G | A | B | C | D | E | F# | G |
| G# | G# | A# | C | C# | D# | F | G | G# |