Sixth Chords
As we know, the major triad forms a base from which other chords are created and named. See what happens when we add the sixth note of the C major scale to the C major triad.
The chord below is a five-string chord comprised of the notes C, E, G and A. Adding the sixth note (A) brings out a different sounding chord whilst retaining similar characteristics. Because we have used a triad from the C major scale the chords name starts with C major. The sixth note is also added so we just add sixth to the name, therefore the chord is referred to as C major sixth (or C6 for short).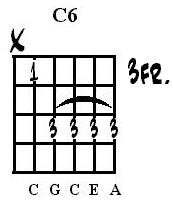 Now that we know the formula for a sixth chord we can use this information to work out what notes are in a sixth chord of any given key. Below you will see a table that has the major scale written out in all 12 keys. The 1st, 3rd, 5th and 6th notes of each key have been highlighted.
Question - What notes are in an A major sixth (A6) chord? Answer
| | | | | | | | | |
| --- | --- | --- | --- | --- | --- | --- | --- | --- |
| Key | I | II | III | IV | V | VI | VII | Octave |
| A | A | B | C# | D | E | F# | G# | A |
| A# | A# | C | D | D# | F | G | A | A# |
| B | B | C# | D# | E | F# | G# | A# | B |
| C | C | D | E | F | G | A | B | C |
| C# | C# | D# | F | F# | G# | A# | C | C# |
| D | D | E | F# | G | A | B | C# | D |
| D# | D# | F | G | G# | A# | C | D | D# |
| E | E | F# | G# | A | B | C# | D# | E |
| F | F | G | A | A# | C | D | E | F |
| F# | F# | G# | A# | B | C# | D# | F | F# |
| G | G | A | B | C | D | E | F# | G |
| G# | G# | A# | C | C# | D# | F | G | G# |